Using PK Reader to Share Information with Students
Teachers, are you ready for the new school season? For ideas about organizing your notes and records, see our previous post on how Personal Knowbase can help educators stay organized.
But Personal Knowbase can also help you share information with your students. Using the Personal Knowbase Reader software provides a handy way to distribute materials. Whether you're in the classroom or teaching online from a virtual classroom, you need creative and secure ways to disseminate materials to your students.
Simply create a Personal Knowbase file with the data you want to distribute. Students can then access your reference file on their own computers using the PK Reader software, a free read-only viewer for Personal Knowbase files. Each student can easily download and install PK Reader on any Windows-based computer.
If you print out information to share with students, you have to deal with costs and availability of paper and ink. If you distribute using websites, you have to cope with server downtime, overloading, and security. But you can easily email a self-contained PK file to all of your students for reliable offline access.
Distribute reference information, research, documentation, class notes, or even an e-book. Giving each student the same data file ensures that everyone is working from identical materials. PK files are good for storing and organizing links to online resources and online class notes.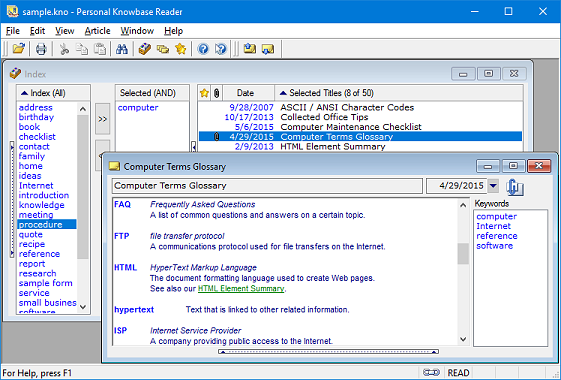 Here are some ideas for types of information to share:
Reference. Build files of reference data, including geographic or historical data, statistics, abbreviations, or glossaries.
Research. List sources for current projects, including bibliographies. Website URLs included in files automatically become links.
Subject and topic indexes. Collections of subject matter with links to further resources.
Documentation. Create manuals for electronics or lab equipment. Provide checklists and lessons learned.
Class notes. Circulate schedules, curriculum, and contact information.
E-book. Hand out an e-textbook that you've written for the class, organized and indexed in PK for easy access to content.
Another option is to burn your information to a CD-R to duplicate and give out to your students. For advanced information on burning your Knowbase file together with PK Reader to a CD-R, see our post on Running PK Reader from a CD.