Importing Files into Personal Knowbase
Do you have lots of little text files scattered around your hard drive? With Personal Knowbase, you can consolidate these files into one data file and index the information from the files so that you can pull up related information easily without scouring your hard drive.
Consolidating your scattered files into one PK database saves disk space, enables cross-referencing the information, and makes finding your information easier.
Types of Importable Files
To get information from external files into Personal Knowbase, you can import many file types, including flat (ASCII) text files, Rich Text Format (RTF) files, HTML (web) files, Windows Cardfile (CRD) files, and delimited files such as CSV (comma-separated) files.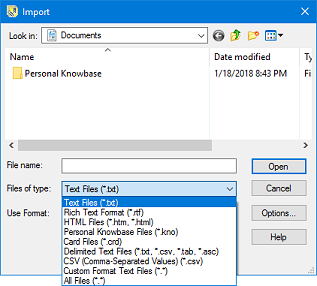 A plug-in is available to add the ability to directly import Word DOC files.
Personal Knowbase can also import lists of just keywords from external text files.
Custom Text Import
If you have text files (exported from a database or other software) which have regularly formatted or tagged fields, you can create a custom import format to assign the file's fields to Personal Knowbase's article fields. The possible formats that you can define is virtually limitless.
Importing Custom Formats is done in two steps. First, you define the structure of the text file(s) you want to import. A Custom Import Wizard guides you through the steps of defining your format. Once the custom format is defined and saved, you can then use the format to import any number of similarly formatted files.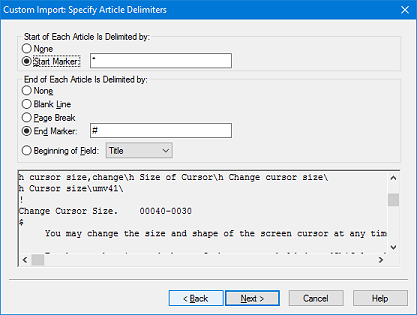 Then you import your files, specifying to use the custom format you have defined.
Setting up custom formats is not always easy, and some trial and error may be necessary. If you are not satisfied with the results of your custom import, you can easily Undo the process by selecting the Undo Import command immediately from the Edit menu to remove the newly imported articles from your data file. Then you can tweak your Custom Format definition. If necessary, to get exactly the results you want, repeat the cycle of tweaking your Custom Format definition, re-importing your files, examining the results, and undoing the import.
More Information
Extensive information about importing is included in Personal Knowbase's Help system's topic About Importing.
Make retrieving your information easier. Consolidate all those little text files on your hard drive into one indexed database of notes.