What is Personal Knowbase Reader?
Personal Knowbase Reader — usually called PK Reader — is a free read-only version of Personal Knowbase for viewing data files created by Personal Knowbase.
With PK Reader, someone who doesn't normally use Personal Knowbase can read Knowbase files created by someone else using the full version of Personal Knowbase.
Or you can use PK Reader to read your own Knowbase files in read-only mode when you do not want to make any changes to the data. You can install PK Reader alongside Personal Knowbase on the same computer using different Preferences settings.
How PK Reader Differs from Personal Knowbase
In most aspects, PK Reader has similar features to Personal Knowbase, except that you can't change your data. Your data is read-only.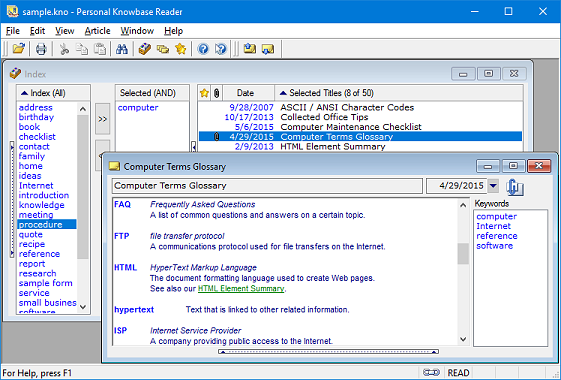 In PK Reader:
You can't create new articles or keywords.
You can't edit existing articles or keywords.
You can view, search, export, and print data.
You can run Queries but not save them.
You can't change any settings stored with the file, such as

File Properties

and

Page Setup.

You CAN change any settings which apply to all Knowbase files, such as

Preferences

and

Print

settings.
PK Reader lacks the Formatting Toolbar and the Tools Toolbar.
PK Reader does not support Reminders.
Like with PK, you can read files from older versions (2 or 3) of PK.
Network Use
Like with PK, you can read data files from a network drive. But unlike PK, PK Reader also allows multiple users to access a file on a network drive at the same time. Place a Knowbase file on a network computer as a publicly readable file, and any number of PK Reader users on connected computers can simultaneously open and view the file in read-only mode.
Using PK Reader
PK Reader is useful for sharing data with colleagues, employees, students, clients, or end-users. For example, help desks have used it for distributing knowledge to support staff. Teachers have used it for distributing notes to students. Consultants have used it for distributing information to clients.
For more information, please see our PK Reader page.