PK Tip: Dragging Text into Personal Knowbase
You can drag whole blocks of text from most other Windows applications directly into Personal Knowbase's Index Window to create a new article.
Try this:
Open PK with the Index Window showing.

Open your word processor or text editor with a document.

Highlight a block of text in your document.

Drag the block with your mouse into PK.

If PK isn't showing on the screen at the same time as your other application, drag to the PK icon on the Windows Taskbar and hold the mouse there until PK displays.

Drop the selected text into the Titles column of PK's Index Window.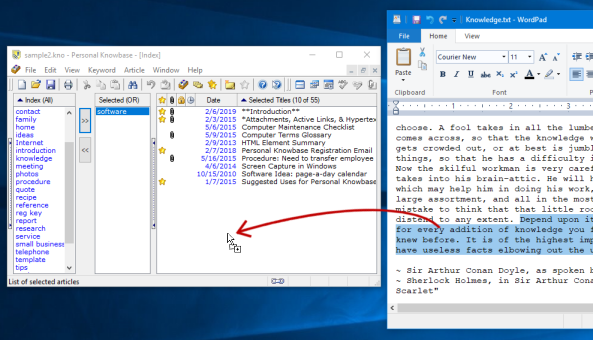 When you drop the selected text, a new article is created and opens with the text in the content area. All you need to do is add a title and keywords.
Note: When you do this, the result is similar to pasting the text as RTF. If the formatting doesn't turn out as desired, you may have to try using copy-and-paste instead, using the Paste Special command.
Warning: Unfortunately, this sometimes doesn't work when dragging from a web browser on a site using scripting which intercepts or prohibits dragging.