How do I install Personal Knowbase from the PKSETUP.EXE file?
To install Personal Knowbase:
Download PKSETUP.EXE from our download page.

Run PKSETUP.EXE from your download folder.

Follow the installation instructions on the screen.

This will install the Trial version of Personal Knowbase. If you have purchased a license, you can enter your registration key by clicking on the "Register Now..." button when you run the software.

We recommend that you keep a backup copy of the original downloaded file in case you need to re-install the software someday.
If you had installed a previous version of Personal Knowbase, you can install a new version over the older version without uninstalling it first.
How do I install Personal Knowbase from the ZIP file?
For anyone who cannot download an executable install file, Personal Knowbase is also available for download as a ZIP format file.
A ZIP file is a file which has been compressed to make it smaller. To use a ZIP file, you need to decompress it by unzipping it. To unzip it, you need an unzip utility. Windows (XP and later) includes limited support for ZIP files. To find an unzip utility, visit your favorite software downloading web site and search on the keyword "zip".
To install the ZIP file:
Unzip the ZIP file that you downloaded into a temporary folder.

Run PKSETUP.EXE from this temporary folder.

Please see "How do I install Personal Knowbase from the PKSETUP.EXE file?" above for more information.
I'm having trouble downloading.
There are many possible causes for downloading problems. Usually simply downloading the file again works.
If you continue to have problems, try this:
Clear your browser's cache (or "Temporary Internet files").

If you download files into a different folder than your browser's cache, also delete the aborted download file from that folder.

Try downloading again.
If you cannot download the executable setup file for security reasons, download this ZIP format file instead.
What happens when the evaluation period ends?
After 30 days of evaluation, if you have not registered the software, you will not be able to enter new data or modify data that you have entered. After expiration, however, you can still read, search, print, and export any data that you have entered.
What if I try PK and decide it isn't what I was looking for?
You can completely remove Personal Knowbase from your computer at any time if it doesn't meet your needs. Remove it using the standard Windows uninstall procedure: From the Windows Control Panel, click the Uninstall a Program link, then double-click on Personal Knowbase.
Any data files that you created will not be deleted.
For more information, see our help topic Uninstalling Personal Knowbase.
I'm installing Personal Knowbase on a very large drive, but it tells me I need more space.
Personal Knowbase's installation program can't interpret the size information from very large drives over about 1.8 TB (terabytes), more or less. If you have such a drive, you'll get a message similar to the one below, claiming to require an apparently random amount of additional space.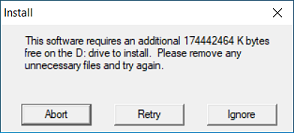 The simplest solution is to click the Ignore button on this message, telling the installation to ignore the space requirement. Depending on your selected installation options, PK is unlikely to require more than 15 MB of disk space for installation. With a multi-terabyte drive, this is unlikely to be an issue.
Alternatively, consider installing PK to a smaller drive or partition instead.