Personal Knowbase
®


Index Card Software

Collect and index notes, addresses, contacts, research notations, and more with Personal Knowbase.

Personal Knowbase is a freeform note card organizer for Windows. Create a digital index card system to store your information. By assigning keywords to each note (card), you create an index that groups related notes for quick access.

Do you need to organize the information in your life?
Save time not rifling through stacks of paper index cards.

Sort by title or date.

Cross-reference your "index cards" with hypertext links.

Put each card in as many "card stacks" as you need by assigning it multiple keywords.

Store a large number of notes. No limits on number or length of card content.

Password-protect your information for privacy.
With Personal Knowbase, you can be an information packrat. This software helps you keep your note-taking organized and avoid information overload.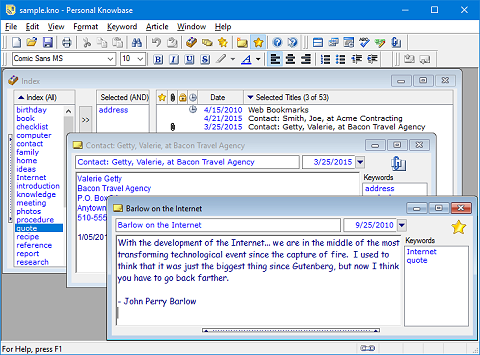 Creating digital "stacks" of index cards
To create a virtual "stack" of index cards, assign the same keyword to all related notes (cards). Select that keyword to see the titles of all cards in that "stack". Since you can assign any number of keywords to each note, each card can belong to any number of stacks.
Unlike with paper-based index cards, with Personal Knowbase you can place a note in multiple "stacks", make notes of any length, and re-sort instantly. "Restack" notes on the fly by recombining keywords with combinations of AND, OR, and NOT.
If you need to directly cross-reference two cards, you can create a hypertext link from the text in one card to the other card.
A note about printing:
Whether you can use Personal Knowbase to print to physical index cards depends on your printer settings. You need to change your "paper size" (in your Printer's "Properties") to the size of the index card and set its orientation to "landscape mode". Some printer drivers have trouble supporting small paper sizes.
You may need to adjust the print margins using Personal Knowbase's Page Setup feature. For example, setting a wide right margin forces all text to the left on the page. Using this method, you could print to a wider card stock & cut the paper size smaller for index cards.
Migrating from Windows Cardfile?
Testimonials
"I use it extensively every day - it's my card index for my own info and that of our clients. Wouldn't be without it."
~ David McCarthy, WEB-right, UK
"As I have written to you, I have been extremely satisfied with Knowbase. I have several databases running in KB, including cooking recipes, bibliographic notes, and - the most important - a collection of examination problems."
~ Olli J. Marttila
"Love your program. Have moved most of my datafiles, notes, and other assorted bits and pieces over to new Knowbase data files. It's so nice to be able to FIND things easily. I have recommended the program to many friends."
~ John Coldwell