Personal Knowbase
®


Knowledge Management Software

Create a personal knowledge base for your notes, documentation, lessons learned, and more.

Personal Knowbase is a freeform knowledge management system for Windows. Organize a large amount of data easily using a natural way to retrieve notes, using keywords to tag records and filter for related information.

Take control of your knowledge with Personal Knowbase.
Record notes quickly without having to navigate deep data trees.

Cross-reference your data with hypertext links.

Manage large numbers of entries as easily as a few. No limits on number or length of records.

Password-protect your information for privacy.

Share knowledge with colleagues using the PK Reader viewer program.
With Personal Knowbase, you can be an information packrat. Never worry about forgetting an important detail once you've organized it in the software.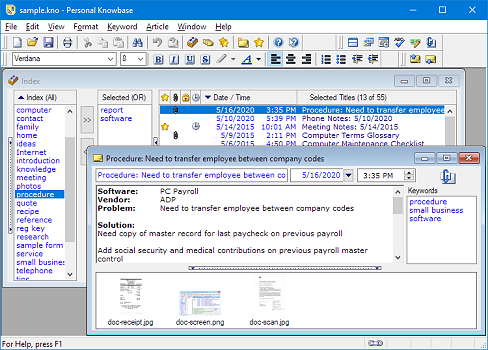 Because of Personal Knowbase's flexible, freeform text database structure, you can use the program as a knowledge manager for many types of data.
Contacts and addresses
Logs and records
Meeting and phone call records
News and blog clippings
Collections and hobby information
Procedures and how-to's
Lessons learned
More...
Sharing knowledge in companies and organizations
Personal Knowbase can be used to share knowledge within your business or organization by creating a database then distributing it with the PK Reader viewer software for Personal Knowbase files. Distribute your shared knowledge repository across a network or using a CD bundled with PK Reader.
Share documentation across your organization.

Document and disseminate Lessons Learned to prevent repeating mistakes on future projects.

Distribute procedures, directions, and how-to articles to colleagues.
Testimonials
"I wanted to share with you all that I've been using the knowledgebase since the beginning of 2003 and it has been incredible. I have separate databases for work and for personal stuff; it does a great job of keeping things in order while at the same time quite easy to find. Keep up the great work."
~ Philip, Georgia
"I'm a filmmaker and new media developer and I'm at the very beginning of understanding and using Personal Knowbase to support my work. However even at this early stage I can see it is going to be extremely valuable. I'm in the process of transferring years of research from word processing files containing data into organized Personal Knowbase files containing information. Going from endless scrolling text files to keyword searching is a quantum leap in access. I'm finding relationships in my files I was never aware of before using Personal Knowbase. I'm sure every Knowledge worker and media developer can make good use of this easy to use but deep app."
~ Roger Wyatt, Saratoga Springs, New York
"Because our office... uses Microsoft products and restricts what we can put on our computers, I had looked to see if I could get by with just using Outlook or some other kludge - but nothing does what your product does so well. The ability to recall notes, ideas, even documents from years ago is very handy!"
~ V. Baker, Nova Scotia, Canada