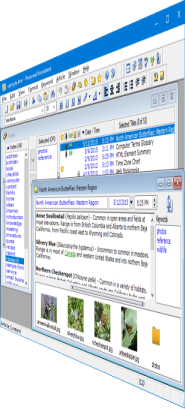 Take Control of Your Notes
with Personal Knowbase
®
Personal Knowbase Is a Unique Free-form Note Organizer Using Keywords.
It's the perfect software for organizing research notes, email archives, project files, and more. Index your notes, messages, and ideas using keywords for fast access.
Clean, intuitive interface
No limits on number or size of notes
No unmanageable data trees
Index on keywords that you choose
Password protect your private information
Carry it with you on a USB drive
View Personal Knowbase screen shots
Works with Windows 11, 10, 8 or 8.1, 7, Vista, or XP.
Only $49.95 (USD)
Conquer Information Overload!
Is your desk covered with bits of paper?
Have you lost information or messages you downloaded?
Do you have lots of great ideas to keep track of?
Can you find your critical notes when you need them?
Personal Knowbase can help!
Personal Knowbase Portability
Carry your notes with you and access them on any Windows PC.
Run Personal Knowbase from a removable drive, such as a USB drive or flash card, without leaving any personal information behind on each PC that you visit.
Personal Knowbase Reader
Do you need to share Knowbase data files with employees or associates?
Personal Knowbase Reader is a viewer for Knowbase data files which allows you to share files with friends. PK Reader reads Knowbase files created with Personal Knowbase version 2, 3, or 4.