Are you wondering if you have the latest Personal Knowbase update?

To check what PK version you're running: Go to the About Personal Knowbase command on the Help menu. The upper right area of the About box includes the version number. The current version is 4.1.1 as of this post.
You can also quickly check if there are updates for you by using the Check for Personal Knowbase Update command from the Help menu. That will check if there are updates and offer you the option of going to our website to download the update.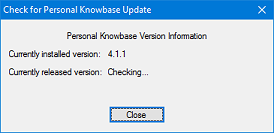 The latest update is always available on our Software Updates page. You can download it and install in on top of your current version.
The update will be free if you already have the current major version number (currently version 4). If you are still running an older version (currently 2 or 3), then you can get a discount on the upgrade. If you need to upgrade and didn't get upgrade information from our mailing list, feel free to contact us to get a discount code.